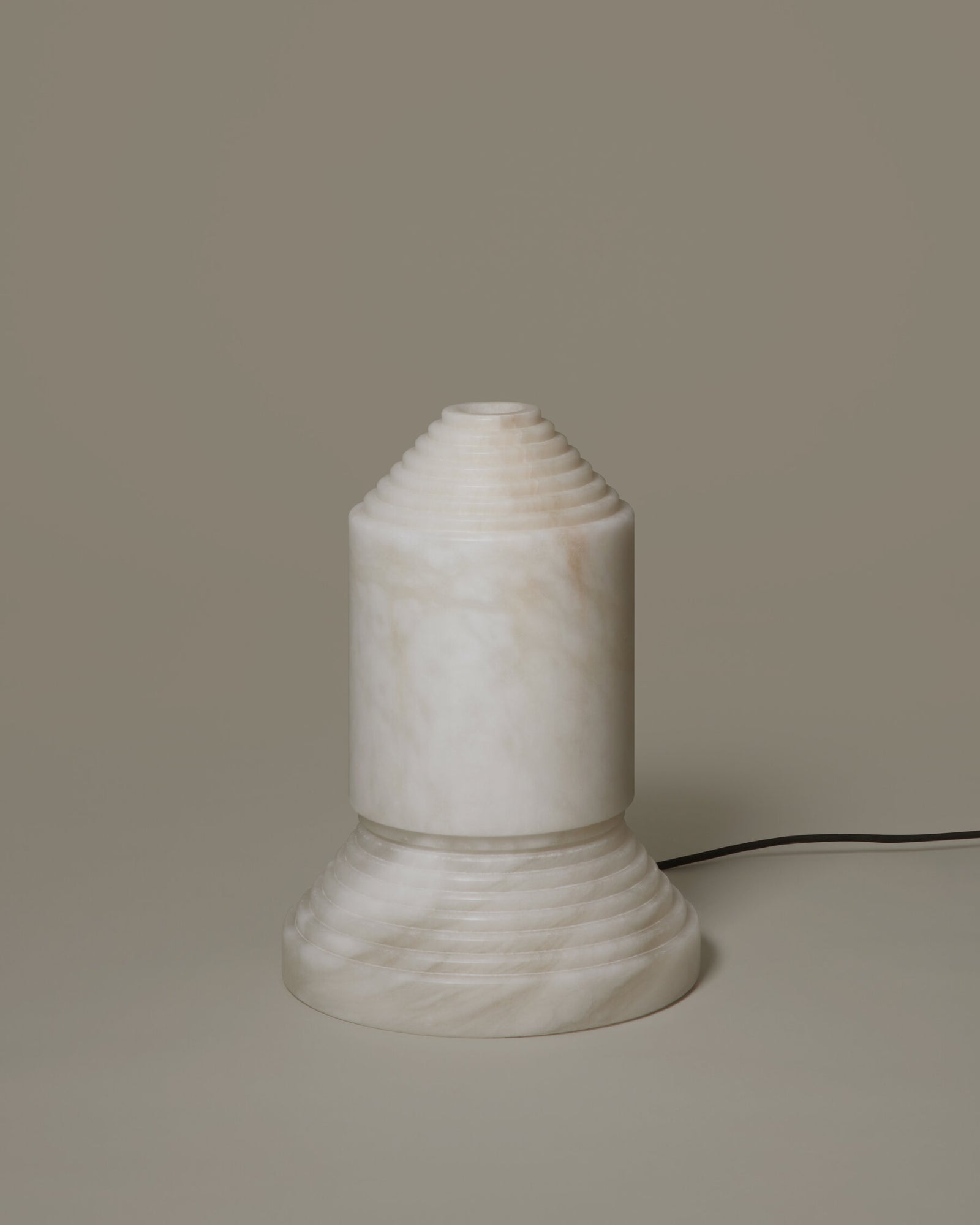 Babel Alabaster Table Lamp
---
The Babel Alabaster Table Lamp by Santa & Cole, aptly named after the biblical tale of the unfinished tower, is a fusion of artistic sculpture and functional illumination. This lamp stands as both a sturdy work of art and a source of intimate nighttime lighting.

 Crafted from alabaster, the Babel Alabaster Table Lamp boasts a solid base and a hollowed shade. Each piece of alabaster is unique, ensuring that no two lamps are alike. This dedication to individuality sets Babel apart as a true work of art.

Defying Convention: Babel's design was born as a deliberate challenge to the prevailing trends of its time. Its innovative use of materials and form defied convention and created a statement piece that stands out in any setting.

Versatile Illumination: Whether gracing your living room, bedroom, office, or even hospitality venues, the Babel Table Lamp offers a stunning statement that enhances ambiance and sparks conversations.

Experience the harmonious blend of sculpture and illumination with the Babel Table Lamp. Its unique design and versatile applications make it a captivating addition to a range of spaces, casting a warm and inviting glow while standing as a testament to artistic defiance.
Please make sure to select the desired options above before proceeding with the download.
Please allow 8-10 weeks for delivery
SKU: AJ/SC.BABTA01
Product specification
At Nook Collections, we're committed to original design, and providing our clients with a world-class curated collection of indoor and outdoor lights.
If you require additional details or have questions of the product specifications, please email our customer service team via our contact us page who would happily assist you!
Want to Discover Lighting Styles and Expert Tips?
Unveiling the transformative power of lighting, our designer lighting guide takes you on a journey through an array of lighting styles, understanding the art of balancing lighting types plus expert tips on choosing the right fixtures for your space, avoiding common mistakes, this guide ensures you'll never be left in the dark.
Read our Designer Lighting Guide