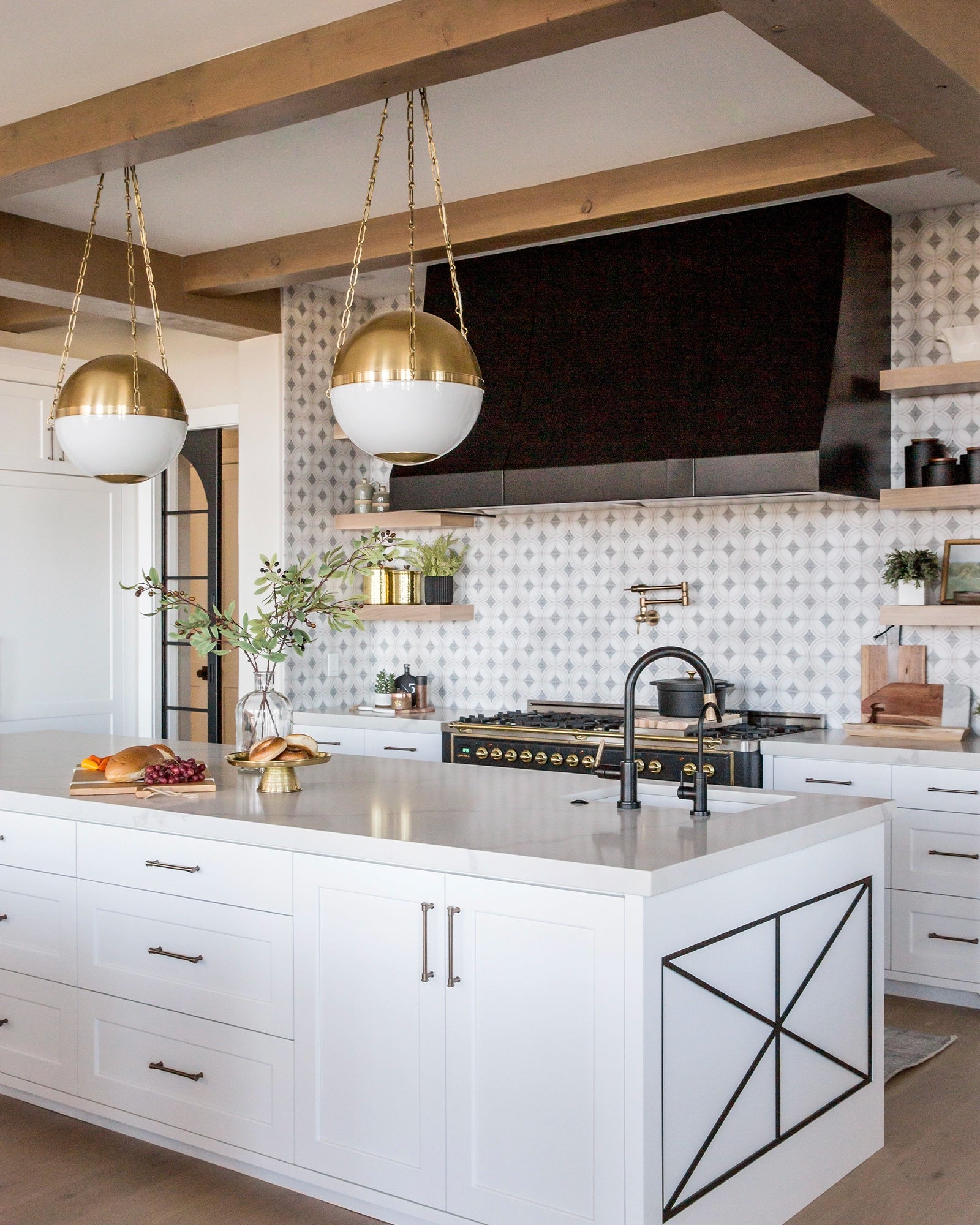 Sphere No.2 Pendant Light
---
The Sphere No.2 Pendant Light—an ode to the timeless allure of the circle. Its elegant silhouette embodies the inherent beauty of this universal shape. With captivating finishes adorning half of the sphere and seamlessly extending to the shade's bottom, the Sphere No.2 collection exudes an inviting and approachable aesthetic. Supported by a sturdy three-chain suspension hanging from a robust canopy, this pendant light encapsulates a harmonious blend of simplicity and style.

The Sphere No.2 Pendant Light celebrates the enduring appeal of the circle, showcasing a refined and uncomplicated silhouette that resonates with universal beauty.
The collection's captivating finishes elegantly envelop half of the sphere, seamlessly continuing to the bottom of the shade. This design choice imbues the fixtures with an inviting and approachable charm.
A robust canopy anchors the pendant light, from which a trio of chains suspends the sphere with a timeless elegance, adding an extra layer of sophistication to the overall design.
The Sphere No.2 Pendant Light embodies a harmonious balance between simple form and stylish aesthetics, making it a versatile addition to a variety of interior settings.
Please make sure to select the desired options above before proceeding with the download.
The lead time of this product typically takes 12-14 weeks. If you require the product sooner, we do offer express shipping options for an additional charge.
SKU: GL.HV/MDS750-AGB-CE
Product specification
At Nook Collections, we're committed to original design, and providing our clients with a world-class curated collection of indoor and outdoor lights.
If you require additional details or have questions of the product specifications, please email our customer service team via our contact us page who would happily assist you!
Dimension
Small: W419.1 x H 323.9mm, Large: W520.7 x H431.8mm
Lamp
Small: 2 x E27 Max 75W, Large: 3 x E27 Max 75W
Drop
Small: 571.5 - 1524.0mm, Large: 736.6 - 1574.8mm
Want to Discover Lighting Styles and Expert Tips?
Unveiling the transformative power of lighting, our designer lighting guide takes you on a journey through an array of lighting styles, understanding the art of balancing lighting types plus expert tips on choosing the right fixtures for your space, avoiding common mistakes, this guide ensures you'll never be left in the dark.
Read our Designer Lighting Guide