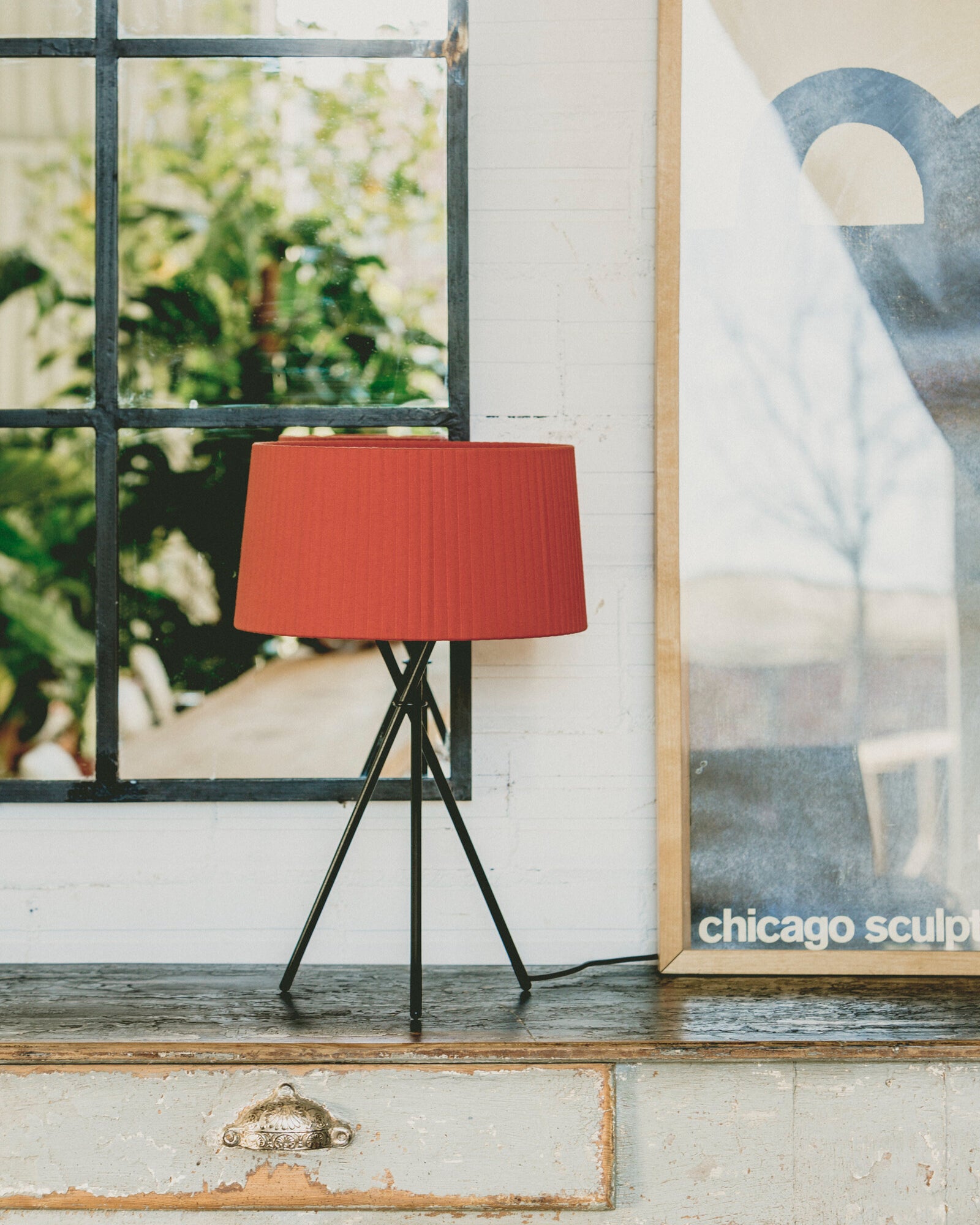 Trípode M3 Table Lamp
---
The Trípode M3 Table Lamp, a creation by Santa & Cole, is a masterclass in combining functionality with vibrant design. This elegant lamp brings a touch of colour and flair to neutral spaces, infusing them with a captivating sobriety that's both colourful and functional.

One of the defining features of the Trípode M3 is its exquisite shades, each painstakingly hand ribboned for a unique, artisanal touch. You can choose from a range of captivating shades, including natural, red-amber, black, Raw terracotta, green, and mustard. Additionally, there are the stunning Diplomática and Bretona striped shades by Júlia Esqué, each adding its distinctive personality to this exceptional lamp.

Trípode M3 Table Lamp combines functionality with vibrant design.
Hand-ribboned shades are available in various captivating colors and patterns.
Illuminated, it casts a warm and nuanced light for a cozy ambiance.
Even when switched off, it stands as a captivating sculptural piece.
Please make sure to select the desired options above before proceeding with the download.
Please allow 8-10 weeks for delivery
SKU: AJ/SC.TRITA01
Product specification
At Nook Collections, we're committed to original design, and providing our clients with a world-class curated collection of indoor and outdoor lights.
If you require additional details or have questions of the product specifications, please email our customer service team via our contact us page who would happily assist you!
Finish
Black, Natural, Red-Amber, or Green Raw Color
Want to Discover Lighting Styles and Expert Tips?
Unveiling the transformative power of lighting, our designer lighting guide takes you on a journey through an array of lighting styles, understanding the art of balancing lighting types plus expert tips on choosing the right fixtures for your space, avoiding common mistakes, this guide ensures you'll never be left in the dark.
Read our Designer Lighting Guide